Jubilee House Facilities
Two comfortable lodges can accommodate up to 38 guests overnight. Each lodge also has a prayer room and prayer nooks for quiet reflection. In addition, our 'Poustinia' self-sufficiency room is prayerfully designed to accommodate private retreatants. A hostel is available for family and youth gatherings. Includes 5 beds plus roll-away beds, two bathrooms, full kitchen and gathering space.
The main commons building comprises a large multipurpose gathering room with its cozy Inglenook fireplace; brightly lit Solarium/Commons/library areas for reading, a gift shop, and a fully equipped kitchen and dining room. Sound, internet, cable, and audiovisual equipment available. The building can accommodate small and large groups comfortably and is equipped to host any kind of religious or civic function.
Beautiful Surroundings

and wonderful spotless rooms! Had a 3 day retreat and could not have enjoyed it more due to the comfort of the retreat center, the local yumminess of the local foods, and the kindness of the family that maintains the center. A blessing for all who visit seeking a closer union with our God.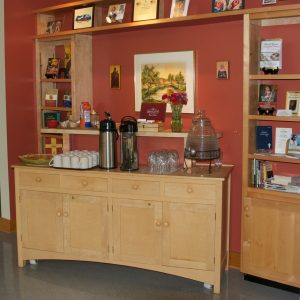 Refreshments and Dining
Outside and in house options available.
"He that believeth in me shall never thrist." — John 6:35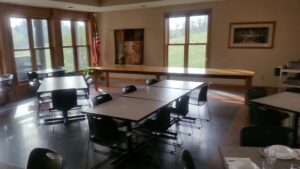 Dining Room
Seats 50, using a buffet style service. Communion must come first and then the prayer. Better a dish of herbs where love is, than a fatted ox and hatred with it. Proverbs 15:17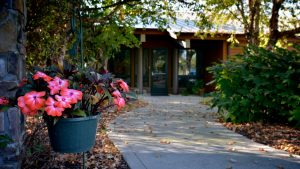 Quiet Reflection
Several areas around the grounds feature benches and chairs for peaceful reflection. Unless you exercise your powers of thought, your soul becomes numb. Reflect on the precepts of the Lord, let his commandments be your constant meditation; Then he will enlighten your mind, and the wisdom you desire he will grant. Sirach 6:37